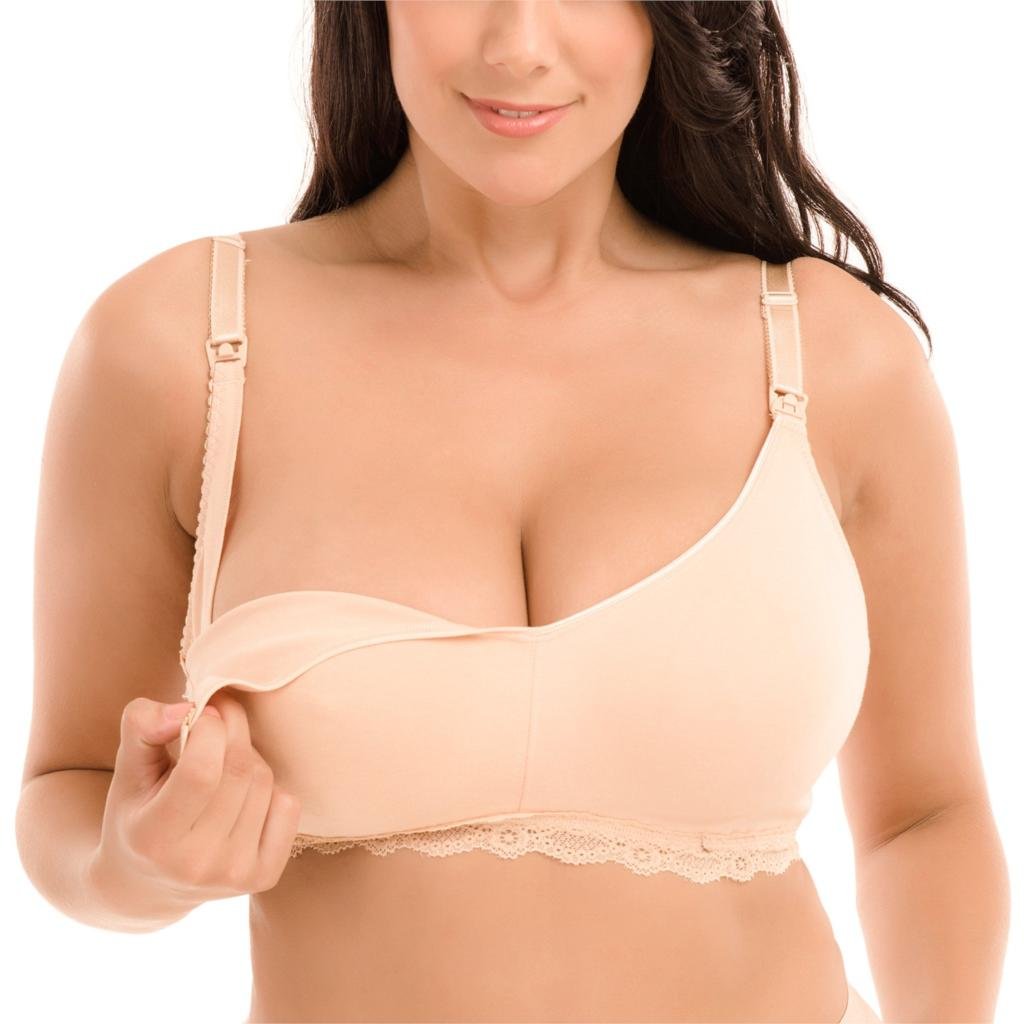 What makes for the best nursing bras?
Simple- If it fits, if it's comfortable, if it's easy to nurse in and you like the style. Nursing bras are essential for nursing moms, especially in the first year. If you're pregnant and asking yourself if you need to buy a new bra, the answer is undoubtedly yes.
Breasts increase in size pretty early during pregnancy (around six to eight weeks), and many will find they outgrow their bras rather quickly. The hormonal shifts, weight gain, and expanding rib cage associated with pregnancy contribute to this growth, as will mammary glands preparing to make milk later in pregnancy. During pregnancy, your rib cage expands (usually 1-2 whole sizes) to accommodate your growing baby. Your breasts will be at their largest several days after birth when your milk comes in — and in the days that follow. Much to everyone's amusement, even the smallest breasted women get to be Pamela Anderson for a little while! Thus, women who were previously accustomed to going bra-less will be surprised at how much more support they now need. Also (very important!), you'll need a bra to hold nursing pads in place. Nobody wants milk dribbling down her belly. Your breast size can even fluctuate throughout the day, with larger, fuller breasts in the morning and emptier, lighter breasts at bedtime. After birth, your rib cage will shrink and, over time, your actual cup size will probably shrink back down as you lose weight and your milk production stabilizes. The shrinkage happens gradually over the first year and continues after your baby starts solids (or after you wean). For those nursing in the long run, your breasts should reach a steady state by the year 1 mark or so.
When it comes to the best maternity bras and the best nursing bras, there are endless options. You've got everyday nursing bras; sleep nursing bras, nursing bras with molded cups, pumping bras and extra-supportive nursing bras specifically made for women with larger busts. Yes, the cup runes over with choices, but how do you know which one is right for you?
Nursing bras differ in one way from maternity bras: They feature clasps on the straps that allow for easy breastfeeding access. If you buy a nursing bra to wear during pregnancy, make sure there is enough room for you to grow, as your breasts tend to go up another cup size or more after your baby arrives. Many of the bras available are maternity/nursing hybrids, which provide support throughout pregnancy and after.
Key components when you chose a nursing bra:
• Ease. The best nursing bras make it seamless to breastfeed. Look for removable pads, no underwire (if it's a sleeping bra) and clips for easy feeding.
Comfort. This should be at the top of your nursing bra must-have list during the first four to six weeks after having baby. You need stretchy nursing bras to accommodate the breast changes during this time. Best are nursing bras in soft fabrics. You'll also want to pick a maternity bra with thick back closures that have four or more hooks; wide, cushioned straps and a band that doesn't ride up in the back.
• Coverage. The cup should fully cover your breast—something you'll especially appreciate after around six weeks. Most appreciated bras are with molded cups to help disguise nursing pads and nipples that may be a bit larger than before.
 Support. Breasts filled with milk are fuller (and heavier), so you'll want more support than you had before baby. A supportive nursing bra also prevents sagging breasts after baby graduates from breastfeeding. The band under the bust should be snug, but make sure the straps don't cut into your shoulders. An ill-fitting bra can impact a woman's posture, and lead to strain and tension headaches.
No matter what you decide are the best nursing bras for you. Keep in mind – It's not unusual to change bra sizes within the first few weeks of breastfeeding—so, if you're shopping before baby arrives, consider buying one or two sizes larger than usual, so you have one ready to wear after birth.
Here at Cresta Stores we are proud to offer a wide range of Maternity Bras and all products you need for your entire pregnancy and after pregnancy period. We pride ourselves on offering something for everyone out there, so you'll find our collection to be versatile, affordable and fashionable. It is difficult to know how much your breasts will change throughout the entire maternity and nursing experience as each woman's body is unique and will change differently: some mums only gain one cup size, while others increase by three or more cup sizes. For this reason it is beneficial to wear well-designed bras and tank tops that will adapt to your body's changing shape and provide a comfortable experience.
To view our full collection, take a browse around our website today.