ALL YOU NEED TO KNOW ABOUT F-30 E-Pipe
Vaping has taken the world by storm and it is only fair you obtain the best quality products for the most reasonable price. Here at Cresta Stores you can find many e-cigarettes to buy online through our store. With such a wide variety, you'll be spoilt for choice on what to purchase.
We wish to add to your attention the Mighty Pipe. On our store the most ordered pipe was
F-30 E-Pipe
F30 30W Variable Voltage/Wattage e-pipe kit provides very smooth and natural feeling it will satisfy your smoking desires: The F-30 30W Pipe Mod is a manual version powerful pipe sharped MOD that is packed with a ton of notable features. It has an output range of 5 to 30 watts or 2.1 to 5.2 volts, being that VV/VW mode can be switched manually on the device. And the F-30 Sub-Ohm tank clearomizer's innovative fully adjustable TOP AIR INTAKE design is 100% leak-free and allows maximum filling capacity. It uses the newest conception, The sub ohm tank/clearomizers feature replaceable coils heads that can be vaped at less than 1.0 ohm.
F-30 e-pipe Features:
1. Manual version, one power start, one headed operation.
2.With Built-in battery. With Samsung Charging port in the bottom. it is easy to use.
3.The Pipe Mod with a OLED display screen. shows battery power, wattage, voltage, resistance, smoking time.
4.Expanded range of output voltage/wattage: With the voltage lowest to 2.1V and highest to 5.2V, wattage lowest to 5W and highest to 30W.
5.510/eGo threading connector, compatible with 510 and eGo threaded atomizers/clearomizers/cartomizers with resistance (0.8-5.0ohm)
6. 5-click safety cutoff: Five clicks on power button, this is a very convenient option if you typically carry your electronic cigarette in your pocket or purse
7. 2 air-inflow holes top adjustable airflow control, no leaking easy to refill, can control airflow as you like.
8. Big Size of F-30 tank: Ø22mm, Stainless steel with pyrex glass tube, big capacity 3.0ml.
9. Unique e-liquid and airflow patch separate technology, 100% free leakage.
10. Top e-liquid filling: The e-liquid can easily be refilled by removing the top cap of tank only.
11. 100% USA made resistance wire, 100% organic cotton, more healthy and performs better.
F-30 e-pipe Parameter:
Name:  F-30 30W E-Pipe starter kit
Material: Plastic + Stainless Steel
Tank Clearomizer Diameter: 22mm,
F-30 E-Pipe(w/tip) size: 170mm*45mm*60mm
Net Weight of one piece e-pipe: 170gram
Shipping Weight: 570gram
VV/VW Mode can be switched manually
Variable voltage: 2.1V to 5.2V
Variable wattage: 5W to 30W
Battery Capacity: 1450mAh
E-liquid capacity: about 3.0ml
Vaping time counting: 15S limited protection
Reverse battery protection,no worry about installing battery improperly
Charging time: about 2.5 hours,over charge protection.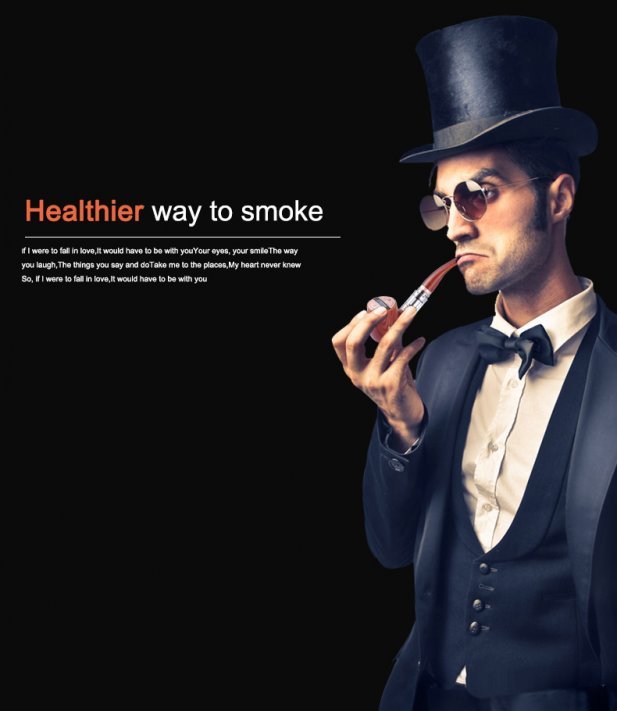 How to use F-30 e-pipe
Power on/off: click the power button 5 times to turn on the F-30 e-Pipe and 5 times again to  turn off the F-30 e-Pipe.
* Tips: The F-30 e-pipe will automatically turn off if you do not use it long time.
Vaping: Long press the power button to take a puff.
Adjustment buttons lock/unlock: Keep pressing up button and down button simultaneously for two seconds when F-30 e-Pipe is powered on, then the up and down buttons will be locked and the screen will display "Lock". In the same way, the up and down buttons can be unlocked and the screen will display " Unlock". Through this operation, you can protect the buttons from unintentional presses and prolong their lifespan.
Swith display mode: Keep pressing up button and down button simultaneously for two seconds when F-30 e-Pipe is powered off, the screen display will rotate 180 degrees. You can view the screen from two different angles through this operation.
VV/VW mode:When F-30 e-pipe is powered on, press the power button 3 times in quick succession, F-30 e-pipe will display current vaping mode: Variable Voltage or Variable Wattage, Variable voltage: 2.1V to 5.2V, Variable wattage: 5W to 30W. for changing the wattages or voltages, you can press up button or down button, up button to increase and down button to decrease. Long press up button or down button cn rapidly increase or decrease the wattage/voltage level.
Functions of Micro USB Port–Charging:The battery power indicator on the screen of F-30 e-pipe will keep flashing when the remaining power of the Li-battery is less than 10%. built in lithium battery, usable charging: can be charged through USB port at the bottom of e-pipe MOD, it will take 2-3 hours to charge the battery with 1A wall adapter.
How to use F30 Sub-Ohm Tank:
Step 1: screw the Tank Body off the Bottom Base.
Step2: Screw the old coil head out from the bottom base (if necessary).
Step3: Screw the new coil head into the Bottom Base again.
* Tips: A loose coil head can cause leaking.
How to fill e-liquid to F30 Tank:
Step 1: Unscrew the Top Airflow Adjustable Base  from the Tank Body.
Step 2: Fill E-liquid through the slot, and pay attention not to drip it into the central airflow tube.
Step3:  Screw the Top Airflow Adjustable Base into the Tank Body again.
Then let it stand for several minutes to get the organic cotton completely saturated.
How to adjust the F-30 tank airflow
Rotate the Top Adjustable Airflow Ring to control air input.The airflow system on the F30 tank system has 2 holes: 2*10SQMM=20SQMM intake holes, which provides plenty of air to the coils. The airflow system is easy to change and slides smoothly into place. However when fully open, which is what we prefer, the airflow makes a lot of noise and whistles quite a bit.
You can find out more and make a purchase via our website or get in touch with us by sending us an email you the contact form on our website.