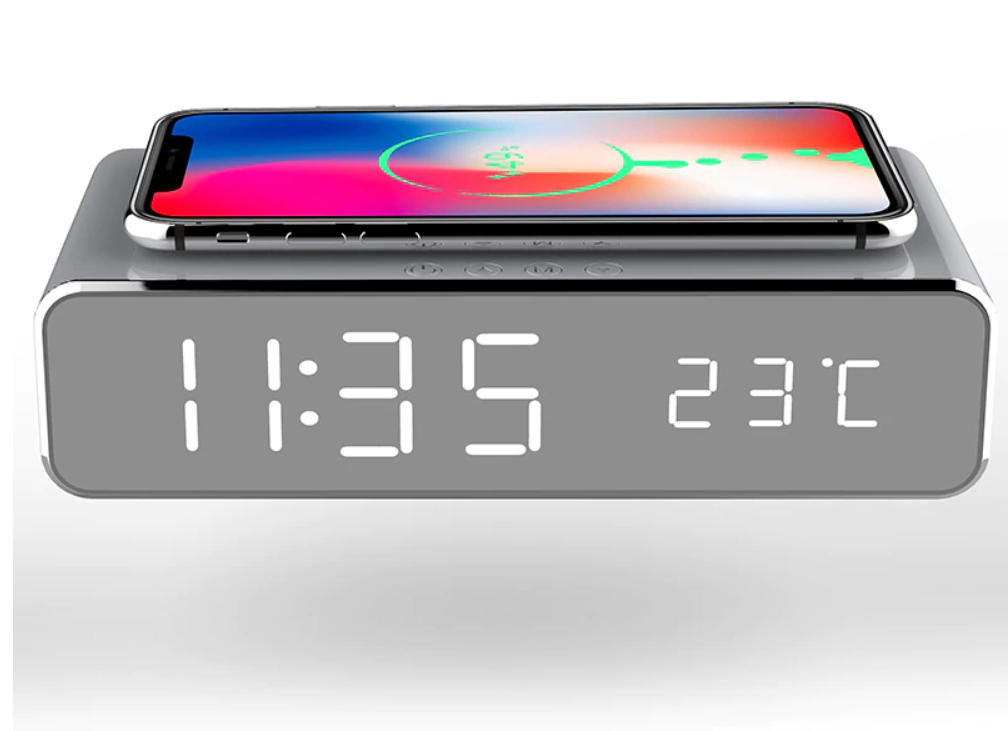 We was wander what is the best Alarm Clock with Wireless Charger on the market. We test few models and we come up with the winner !
Pros…
1 . Design – very stylish in metallic finish of black or silver and is suitable for any modern furniture.
2. Easy use and set up – only few straight forward buttons for set up, after plugging and set up the time and desired alarm is ready to use and most important ready to charge your phone
3. Purpose – to charge your phone wireless with no wires, no other adaptors or extra gadgets, visible time and temperature and very important loud wake up alarm
4. Price – around 20 pounds — almost nothing for this amazing smart electronics gadget
5. Fast and Free shipping with UK taxes included, no other extra costs, shipped from Europe where house
Cons ….
No ultrafast charger – but taking in consideration charging overnight is acceptable
Only 3 types of alarms – but enough to wake up in the morning
Only 2 colours – not too much versatility for design fans
Alarm Clock with Wireless Charger
Description:
Characteristics
1. Telephone wireless charger (supports iOS, Android, Windows wireless charging device)
2. Date
3. hour (12/24 hour switch)
4. alarm clock (3 sets of alarm clocks)
5. thermometer (Celsius and Fahrenheit)
6. power saving mode (on / off)
Note: Please confirm whether your mobile phone has wireless charging function before purchase. If the mobile phone does not have wireless charging function, it cannot be used.
Specifications:
wireless charger, alarm clock, clock, Exclusive design
Stylish look, simple but not simple.
QI standard, charging is safer.
Material: ABS
Output: 5V 1A
Input: 5V 1.5A
Rated power: 5W
Function: Alarm Clock, Time/Temperature Display
Dimensions: 160x75x40mm
Package Included:
1* wireless charging
1* instruction manual